Keyless Digital Locks for All Companies
03/31/2014
Back To Blog
The lock systems used for each property should not be associated only with personal preferences but for the greater good. It's fair to say that companies of all sorts will have to secure their establishments from espionage, strangers, prying people and thieves. They need good security door locks and ways to secure office valuables but they also need to protect people. People who work in the company and people who visit! Sometimes, conventional deadbolt installation won't be convenient or even safe for people and that's why keyless electronic access systems are often chosen by different corporations.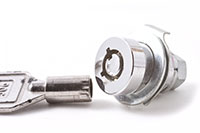 Why Keyless electronic systems are best
Let's assume you are called to secure a sports stadium, where there are thousands of employees and visitors. There're certainly restricted areas for visitors or even for some employees. Some areas will be off-limits to most supporters and should allow access only to VIPs and some members of the staff. Will conventional door locks do the job? The manager must make sure people are secure and so is the property. Similar chaotic situations will find in hospitals, where staff must have access to certain facilities of the building but not all. At the same time, patients and visitors ought to move in certain corridors and rooms. Will simple systems cover these needs without creating a mess?
Multi-functional buildings where thousands of people come and go throughout the day don't need simple solutions. Smaller scale ones might still find a master key system convenient but huge places won't be able to function properly with conventional keys. What if a nurse is rushing to bring medicine to a needy patient and has lost the keys during the panic! Digital solutions are definitely better! Who has the time to lock and unlock doors all the time? Who will call for key replacement and what will a hospital do without having access to significant parts of the facility?
It is not accidental that companies and organizations of such magnitude have the ordinary locks replaced with digital keyless ones. Each member of the staff is given a personal code for several doors and so they are granted access. Other people stay off-limits to restricted areas and these systems will also immediately unlocked in case of a fire to avoid having people entrapped.